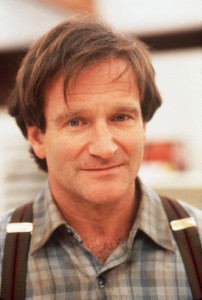 Today, millions of people are mourning because of the death of comedian and actor Robin Williams. Williams was an amazingly talented person. He was a recipient of numerous awards, including an Oscar for his role in "Good Will Hunting." My personal favorite role of his was in "Aladdin." Williams was the voice of the Genie and I knew every one of his lines by heart.
Tragically, there was another side to him. In addition to being able to make anybody laugh until they cried, Williams struggled for years with addiction and depression. Williams was very open about his problems. True to his character, Williams never missed an opportunity to use his struggles to make people laugh. Yesterday, news reports say that the 63 year-old husband and father of three was found dead in his home of an apparent suicide by asphyxia.
To me, laughter is one of those experiences in life that erases differences. When people are laughing, they're not Black, White, rich, poor, a Republican or a Democrat; they're just people. For his contributions to that form of art, Williams will be fondly remembered by all.
After I heard the news about Williams' passing, I started thinking about the issue of suicide. Most people believe that it's tragic, but why? Is it tragic in a personal sense in that it goes against our preferences or is it tragic in an ultimate sense? We often assume that nobody in their right mind would commit suicide, but why is that? Could suicide be a rational decision? I think the answer to these questions depends on your worldview.
Any worldview or philosophy of life that's worth its weight includes answers or opinions on certain ultimate Grand Central Questions such as: does God exist and what is my purpose? I wonder if people take the time to realize the implications of their worldview, specifically when it comes to suicide. For example, atheists agree with the statement: "God does not exist." In general they believe that the universe and human existence is merely a cosmic accident and that there is no ultimate purpose for life; any purpose that people think they have is self-created as a way to cope with the harsh realities of life. It seems to me that a person with such beliefs could see suicide as a rational decision. Since, your life doesn't really matter in the scheme of things and since you're an accident without any ultimate purpose beyond yourself, why shouldn't one kill themselves if they're in pain or unhappy with their life? It seems to me that an atheist can't escape these implications.
For me, it's not just that I reject atheism because I find its implications depressing, I think atheism's answers to questions about God and purpose conflict with reality. Today, many scientists agree that the universe is fine-tuned for life. To me, the best explanation for the fine-tuning of the universe is that God exists and that He designed the universe because He cares about us. Since God cared enough to design the universe so that we could live, there is worth and value in our lives beyond the value that we see for ourselves. Christianity teaches that God cares so much about us that He was willing to sacrifice Himself on the cross just so we could be reunited with Him. I personally find this teaching more consistent with the human experience than atheism or any other alternative.
It seems to me that only a person who's worldview is consistent with theism in general or Christianity specifically, can mourn the death of Robin Williams in a deep and meaningful way. As a Christian, I don't mourn his death in merely a subjective or selfish way in that he can't make me laugh anymore, I also mourn his death because his life mattered in and of itself. The world has truly lost something valuable that can't be replaced. It makes the tragedy even worse when, as seems to be the case here, life's struggles causes a person to forget that they are so valuable.
I hope that people will take the time to think, not only about Robin Williams' death, but about death in general. Ask yourself: if you feel a sense of loss that is more than just selfishness when somebody you know dies, is your worldview consistent with that feeling?