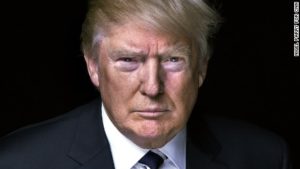 Daniel 3:16-18
Shadrach, Meshach and Abednego answered and said to the king, "O Nebuchadnezzar, we have no need to answer you in this matter. If this be so, our God whom we serve is able to deliver us from the burning fiery furnace, and he will deliver us out of your hand, O king. But if not, be it known to you, O king, that we will not serve your gods or worship the golden image that you have set up."
America has a new president!
This past election season was one of the most negative in recent memory. Hillary Clinton and Donald Trump were the most unpopular candidates to ever have run for president. Donald Trump's victory left everybody stunned. Nobody saw it coming and people are upset. We've had weeks of protests, people have rioted in the streets, high school students walked out in protest, many people were initially depressed, teachers cancelled tests, and they setup special rooms for people to go to if they can't handle what's going on.
So I saw everything that was going on and how severely people were reacting and I thought to myself, what does the bible have to say about this? How should Christians respond, what would Jesus do?
The first thing that God put on my heart is idolatry. Have we made an idol out of our political leaders? Exodus 20:3 says "You shall have no other gods before me."
Some people have put entirely too much faith in what they thought Hillary or the Democratic Party could do for them or they were so sure that Hilary was going to win that they are in shock. It occurred to me that extreme reactions such as rioting in the streets, destroying property, beating people up or becoming depressed are ways people respond when they have made a person or a political party their idol. They view a person as their guarantee to prosperity or as some ultimate vindication of their political views and beliefs. Some people take great comfort in having their guy or girl in office. To my mind, this should not be the response of a believer.
Don't get me wrong, it is ok to be disappointed or concerned. Donald Trump has said certain things that are extremely troubling. One of his major themes has been immigration. At times during his campaign he said some inflammatory things about immigrants and he took a very hard stance on what should be done with them. My home church was established by immigrants from Nigeria. We have many members who have had difficulty with their immigration status in the past and even those who are dealing with difficulties in their immigration status right now. My parents and many others came here because they loved the opportunities that America has to offer and we as their children have benefited greatly from it. However, even though there are reasons for concern, as believers we mustn't react like the world reacts. We must remember: "My help comes from the lord, who made the heaven and earth" (Psalms 121:1).
God is sovereign over all things:
Let's take a look at some scripture to see examples of what it looks like when God's people remember that their help comes from the lord.
The book of Daniel was set in a time of terrible oppression for God's people. The nation of Israel had been militarily defeated by the Babylonian empire. They were removed from their land and exiled to the city of Babylon. They were treated worse than second class citizens. They had little if any political power. Nonetheless, God had allowed a few Jews to be given some authority as officials in the Babylonian empire. Daniel was one of them.
The king at that time, Nebuchadnezzar, was so prideful that he made a golden image of himself and issued a decree that when you hear the horn, pipe, lyre, trigon, harp, bagpipe, and every kind of music; you have to fall down and worship the image. Those who did not comply would be cast into a burning fiery furnace. This decree comes into direct conflict with God's prohibition against worshiping graven images.
Shadrach, Meshach and Abednego, like Daniel, were faithful Jews. They had been given some authority, God had allowed the king to find favor with them and they were appointed to handle the affairs in certain areas in Babylon. Shadrach, Meshach and Abednego had refused to bow down to the golden image.
One thing that God helped me to see was that we need to have some perspective in order to be able to properly assess how much we should be concerned. Like it or not, this election was not stolen. Donald Trump won fair and square. We are blessed to live in a country that has political process that you can trust in. We have never had a military coup d'état in this country. Administrations transfer peacefully. We don't have any serious fears that the winning party in an election will start killing or jailing their political rivals. We have free press for the most part. We've never had instances of journalists being jailed or killed for criticizing the government. Unfortunately, countries like China and Russia have seen their fair share of that.
Even if you are dismayed about the results of this election, we are not facing the level of persecution that the three Hebrew men were facing and we are not facing the level of persecution that people in other countries face.
At the same time, it's still important to think about how they were able to face their situation, so we can take something from it.
The three Hebrews had faith. They really believed in God and in the power of God to deliver them from their situation. It was God that their hope was in, not the king. Without that faith in God, that type of courage in the face of death is not possible. Anyone else would have failed that test. This is extraordinary faith. Many of us, if we are honest with ourselves, might not have responded in the same way. That's not an insult, that's a challenge; we must continue to pray to God to increase our faith in Him. Increase our awareness of His power so that we can be courageous in difficult times. It should not matter who is in office.
The three Hebrews did not know their fate. It's not like they had a vision or a prophecy about what was going to happen. They put their trust in God first and were ready to accept what happened, one way or the other. We've seen this before. When God called Moses, a stutterer and a murderer, to free the Hebrews, he didn't know how it was going to work, he was hesitant, but he was faithful. When God told Abraham to take Isaac up to that mountain and make that sacrifice, he didn't know how it was going to work, but he was faithful. The bottom line is that no matter what the circumstance we as believers are blessed to know that God is still on the throne. When we are faced with situations that we don't like or when we are anxious about what will happen we must simply remember where our help comes from. When we do that, there's no challenge we can't face there's no situation that can overwhelm us to the point of depression for too long. We don't resort to violence or seek our way by illegitimate uses of force. We remain faithful to God, come what may.
At times like this, remember that Jesus said: "I came that they may have life and have it abundantly." (John 10:10b)
The abundant life is the freedom of knowing that God is in control no matter what; that even when you can't see a way out of your situation, you have the blessed assurance of salvation through Jesus Christ.
So if you sit here today and you're dismayed by the fact that Donald Trump is now America's president or if you are anxious about what will happen during his administration remember that God is in control. Or like the other half of the country who didn't even vote, you're someone who couldn't care less about politics, you may be dealing with broken relationships, addictions, stress at work, illness etc. I want you to remember that God is in control and pray that you lean on God even more.
We have no idea how God will use anyone
The bible tells us that we must pray for our leaders. (1 Timothy 2:1-2) We should pray for Donald Trump.
God can use anyone, no matter what man thinks. When God chose King David he told Samuel: "the Lord sees not as man sees: man looks on the outward appearance, but the lord looks on the heart." King David was referred to as a man after God's own heart. This is the same King David that was an adulterer and a murder.
Say what you want about Donald Trump, he's been accused of many things and he has many faults, but he hasn't been accused of murder.
 We should pray that God might use Trump for his Glory or that God may surround Donald Trump with people who have wisdom and fear the lord.
If you look at the three Hebrews, you can see the hand of God in how the circumstances worked themselves out.
Even in the midst of being exiled to a foreign land, God allowed the king to find favor with them because they were wise and skilled. Because of their high position, they were brought before the king. Imagine if they had been three regular Jews. They likely would have been executed right away. It was because of their status as officials that it got the king's attention. So all along it's as though God was setting the stage for an event that was very large so that God's power could be put on display before a wide and powerful audience. Through the courage and faith of the three Hebrews, not only were there lives saved, but God was glorified.
So whether it is through president-elect Trump directly or through the people around him, we pray that at the end of the day that God's will be done and that God is glorified.